Tech start-ups are famous – or perhaps infamous – for their idiosyncratic offices filled with ping pong tables and hammocks and games consoles. But what happens when the start-up grows up? This is the position in which TransferWise finds itself: now eight years old, with nine offices around the globe and a total head-count of more than 1,700, it's no longer a plucky upstart.
Its office in the iconic Tea Building – also home to Shoreditch House – is a living history of its evolution, a sprawling, richly textured maze of corridors and nooks and meeting rooms. The company moved in six years ago, initially occupying the sixth floor and subleasing some of the space to an agency. Later it reclaimed the entire office, and eventually expanded into the floor below. This required a gigantic hole to be knocked between levels, which now houses a set of wooden bleachers used for group conferencing and social events. "There were requests for a slide or a fireman's pole but we had to veto those," smiles office manager Geraldine Jardeleza.
TransferWise did consult its staff before starting the work, however, with suggestions ranging from the placement of desks to the purchasing of massage chairs to the names of the myriad meeting rooms (examples include Game of Phones and The Bat Cave).
This building has had more lives than a cat. It was a factory, a warehouse, an art and sculpture studio
Much of the office's design is a delicate tango between the necessities of a modern office and the spatial realities of the building, a former bacon factory constructed for the Lipton company in the early 1930s. Making bacon and facilitating international bank transfers, it turns out, require very different working spaces, so TransferWise head of design Duncan Lamb has had to come up with some inventive workarounds.
"The space is just bananas," he says. "This building has had more lives than a cat. It was a factory, a warehouse, an art and sculpture studio. I'm sure it's been a crack den at some point. Thankfully we never found any bodies. There are all these weird corners and alcoves, elevator shafts that are now booths, areas without enough light, areas with too much light. Taking advantage of all the different spaces and ceiling heights and materials has been a challenge."
Seemingly simple design fixes, such as putting banks of desks against windows to give each team as much natural light as possible, is made difficult by factors such as the building's low ceilings and the uneven floor, which is a muddle of poured concrete and original tiles. 'Problem areas' include high-traffic corridors such as the one leading to the canteen, where Lamb has experimented with sound dampening partition walls and rows of pot plants.
Even the ground-floor entrance foyer is a strange mix of old and new, with a cobbled pathway leading past a plyboard reception booth. It's currently having a major refurb, with plans to install a coffee shop where employees from the various offices can meet and potentially work together. When I arrived a man in rolled-up jeans was walking a greyhound past a bunch of builders on a mechanical cherry-picker, which I think sums up the personality of the Tea Building.
Lamb says he's not interested in interior design philosophy, preferring to "design things for humans, whether that's machines, interfaces or spaces". He started out looking at the way TransferWise employees work, which tends to be in sub-teams of eight to twelve people. Each team needs their own space, as well as places they can work individually, and areas for intra-team meetings of two or three people.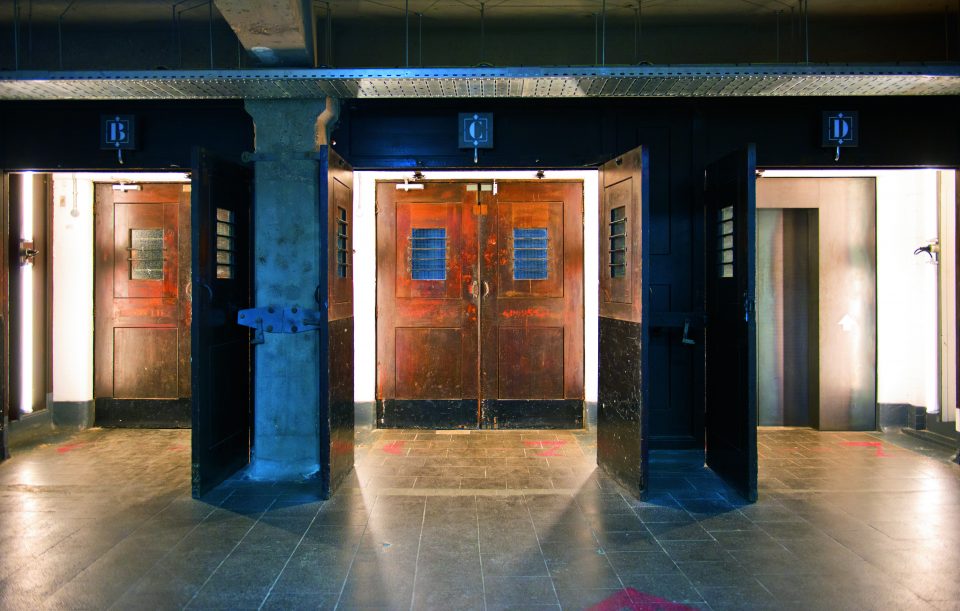 "There are a lot of different furniture set-ups in different rooms," he says. "Having a table with chairs around it affects how people behave. Give someone a standard 75cm table and people will sit at it, which seems like a statement of the obvious. But when people are sitting, they open their laptop. Watch a meeting and you'll see people behaving in a very un-meeting-like way, and it ends up being a waste of time. Tables and chairs are the suit and tie of the modern office. You put a suit tie on and you behave in a certain way, and people have certain expectations of you. It's the same with furniture and space and layout."
The choice of furnishings leans into the jumbled nature of the building, with sleek modern stools and standing desks sitting beside glass-fronted granny cabinets and leather winchester sofas. Unlike many tech companies, TransferWise doesn't have a strict design code, alowing each of its global offices to reflect their surroundings. "We wanted to bring a bit of Shoreditch into the office," says Lamb, "just like the Budapest team wanted to bring in a bit of Budapest and the Tallinn team wanted to bring in a bit of Tallinn."
Rather than overtly branding everything, TransferWise got an artist to paint an original mural using the company's distinctive blue and gold colour scheme. Colour is also used to subtly section off different 'zones' within the office.
Much of Lamb's work is trying to bring structure to chaos. "There's a fetishisation of office spaces. You see pictures in magazines of pristine spaces, but they're usually empty. You don't see the footprints on the walls or the bags on the floor or the chairs left after a meeting. To think you can create a perfect office is totally naive – it needs to be hackable, an open-source space where people can move things to suit their needs."
The international nature of the business also informed the design, with every team given access to video-conferencing equipment. "We learned not to compromise anything to do with acoustics," says Jardeleza, pointing out the sound dampeners fitted to many of the walls. The space is also designed to be used, with virtually all the interior walls covered in screens or work-flow charts or floor-to-ceiling white boards for impromptu brainstorming sessions.
And then, of course, there are the features you would expect to find in a company that was, until recently, very much a start-up: the hammocks and the ping pong table and the games console, the latter of which is housed in a purpose-built room with low-hanging edison light bulbs and beautiful original tiles; when I popped my head in, two employees were zipping around Mario Kart 8's Rainbow Road.
If you prefer real-life racing, there's a row of electric scooters parked beside the reception desk. Other features include a snooze pod complete with sleep mask and phone charger, which is particularly helpful for jet-lagged international visitors; a private room for meditation or prayer or breast-feeding; a well-stocked library; and a sauna, which is a common theme across each TransferWise site, reflecting the founders' Estonian roots. The company also organises dozens of events, listed on the screens around the office, which range from daily running classes to an annual Oktoberfest celebration.
Perhaps the piece de resistance, though, is the terrace, which overlooks both the City of London skyline and the adjacent Shoreditch House swimming pool. It's a ridiculously pleasant space to while away your lunch hour.
On my way out of the office, I noticed a plastic banana stuck to the ceiling. "There's a sinister backstory behind that," says Lamb. "But I can't tell you about it."
Now I'm desperate to know about the banana, another little mystery in this weird and wonderful office.